Share:
---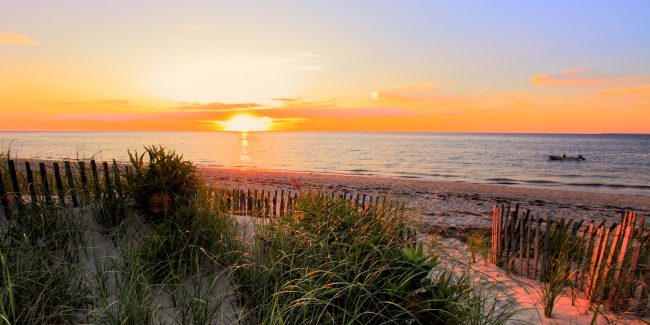 Cape Cod for Value, Sea and Charm
Cape Cod Golf Guide
By Katharine Dyson
With 43 courses in a relatively small area, in Cape Cod and you can stay in one place and play a different course each day - good courses with carries over salt marshes, elevations, and ponds not to mention magnificent vistas. Good prices too, with play and stay packages offered by many hotels with room, golf, cart and breakfast often less than $75.

A fishhook-shaped penninsula tied to Massachusett's southern coast by two bridges, Cape Cod may attract some pretty important people like the Kennedys, James Taylor and Diane Sawyer yet it's unpretentious. Celebs mingle seamlessly with locals typically wearing their faded tee shirts, boat shoes and cutoffs or their Jimmy Choo sandals, pencil thin jeans and cashmere pullovers.

From the time you cross the Bourne or Sagamore Bridge and head east on Rt. 6, you can drive all the way to the tip and if you time it right - like midnight in the summer or better yet, off-season - it won't take you very long either.
But then even in peak periods, why should you feel any rush of angst? The sea breezes are tinged with the salty fresh air, the scent of scrub pine wafts through the air, beach roses bloom on their thorny stems and gulls cry overhead with sand and sea all around.

The Cape landscape has been sculptured into an array of memorable golf holes by architect greats like Donald Ross, Jack Nicklaus, Brian Silva and Rees Jones with added punch from fog, wind and Nor'Easters. Courses range from ultra private clubs like Cape Cod National, in Brewster, Eastward Ho! in Chatham and the newest stunner, the private Golf Club at Cape Cod, a Rees Jones design in Falmouth. Still there are many excellent tracks the public can play including the two Captain's courses in Brewster, the classy Ballymeade Country Club in Falmouth and the highly rated Ocean Edge Resort course in Brewster recently renovated by Jack Nicklaus.

Not to be overlooked are Bayberry Hills golf course in West Yarmouth by Silva and Cornish, Olde Barnstable Fairgrounds, Sandwich Hollows, Hyannis Golf Club, Cranberry Valley in Harwich cleverly routed through cranberry bogs and Bass River golf course with carries over the river. Blue Rock Golf Course in South Yarmouth may be a par 3, but it's a gem and at Chequassett golf course in Wellfleet, you simply drop your modest green fees into a small box in the pro shop about the the size of a Volkswagon bug.

Dennis Highlands is known for its no nonsense design, generous undulating greens while Dennis Pines is narrow, tough. Traditionalists should play historic Highland Golf Links in Truro perched along the windswept bluffs on the eastern shores of the Atlantic with the iconic lighthouse standing sentry on the sidelines.


Where to Stay
On the Cape expect a huge range of places to stay from posh to simple. On the super lux end are The Wequassett Inn Resort and Chatham Bars Inn in Chatham, the Dan'l Webster Inn & Plum Beach Spa in Sandwich and the Ocean Edge Resort and Golf Club in Brewster. Offering a good bang for your buck are the Heritage House Hotel in Hyannis, Bayside Resort in West Yarmouth, The Corsair and Cross Rip oceanfront resort in Dennisport and the Clarion Inn in South Yarmouth. In Provincetown the Harbor Hotel, a 60s era dated motel along the coast, has been reborn with a fresh new look. Golfers will find it a good base for their golf on the Lower Cape.
There are also many charming bed and breakfasts such as the Platinum Pebble Boutique Inn, an old captain's home in West Harwich transformed into a sylish study of black, white and gray with extremely comfortable beds and lux linens. The Abbey housed in a renovated former Catholic Church in Sandwich uses materials salvaged from the church in the décor of the six eclectic guest "chambers" - stained glass windows, flying buttresses and beds made from former pews and jewel-like colors lend panache to each room. Downstairs is the Belfry Bistro, an award-winning restaurant.
Where to Dine
Cape Codders typically dine casually and relish their fresh "day-boat" fish and seafood. Try Joe's Beach Road Bar & Grille situated in a restored barn in Orleans, Clancy's in Dennisport on the Swan River, a friendly family-owned restaurant and Yarmouth House in West Yarmouth, serving locals and visitors for more than 30 years. For that special meal with a high dose of romance, book a table at The Belfry Bistro in Sandwich featuring some of the best cuisine on the Cape. At The Patio in Provincetown, house specialties include mussels and lobster mac 'n' cheese while the house pastime is people watching.
For dining on the water, you can't beat The Ocean House in Dennisport where floor-to-ceiling windows afford a front row seat to the grand drama of the rolling surf. But if you're all about oysters go to the Oyster Company Raw Bar & Grille, also in Dennisport. They have their own oyster farm and the fish on the menu depends on what's been caught that day.
Off-course
Visit the John F. Kennedy Hyannis Museum and the Cape Cod Baseball League Hall of Fame & Museum. Another good bet is the Heritage Museums & Gardens in West Harwich with an operating carousel, antique car barn and extensive gardens. Sample wine at Truro Vineyards and ride through the dunes with Art's Dune Tours headquartered in Provincetown. Check out the Cape's wonderful lighthouses, go whalewatching, fishing, and walk or bike the 22-mile Cape Cod Rail Trail. Or just relax with a good book on one of the Cape's superb beaches. It's all good.
Nantucket is worth a detour via the Hy-Line ferry if only to play the historic Miacomet Golf Course. Although pretty flat, water, high grasses and sand - maybe fog - create plenty of challenges. After golf, there is much to experience from quaint downtown areas to beaches, lighthouses and art galleries.
Whatever you experience on the Cape, come once and you'll be back.
Revised: 10/23/2012 - Article Viewed 24,209 Times
Share Comment
Written By: Katharine Dyson

Katharine Dyson is a freelance golf and travel writer, author, and columnist for several national & international publications and websites as well as guidebook author and blogger. Realizing that a golf and travel writer is the most underpaid, over privileged profession on the planet, she embraces the life style traveling all over the world to play golf and check out resorts. She is a member of the Golf Writers Association of American, Golf Travel Writers of America, the Society of American Travel Writers, and Metropolitan Golf Writers Association.