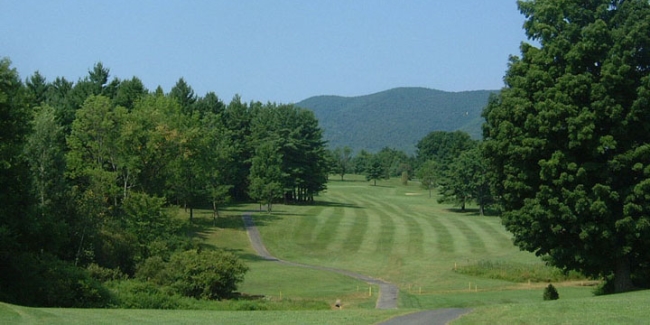 Come to the Berkshires for golf, music, culture and nature
By Katharine Dyson
In the gently rolling Berkshires in western Massachusetts, these rugged aged mountains with dramatic elevations serve as a backdrop for spectacular views from course fairways that run along valleys, streams, wetlands and stands of tall trees. It's in this rural, more remote part of the state where art, theater, dance, music, history and golf come together attracting those who love the outdoors, tidy small towns, culture and history.

Getting to the Berkshires is easy. Route 7 running north-south and the Mass Pike (I-90) going east-west between Boston and Buffalo, are convenient conduits to some great golf and excellent values with green fees typically $40 or less. And whether you prefer a simple, no nonsense motel or a warm and fuzzy inn or B&B where the innkeepers serve blueberry pancakes with fresh fruit and homemade banana bread, you're sure to find the perfect place to suit your needs.

Just as gridlock in the Berkshires is about as common as a squirrel trained to retrieve golf balls, getting tee times here is easy, perhaps because this region is relatively unknown. Overheard standing at the bar at the Waubeeka golf course just south of Williamstown was one of the local lady golfers who had just learned there was a golf journalist on the property. "Oh, please, please don't tell anyone about us. We love it just the way it is," she begged.

Waubeeka Golf Links in Williamstown, designed by Rowland Armacost (1966) lives modestly though the course itself is another matter. Set beneath the shadow of Mount Greylock, the highest peak in the Berkshires, well-groomed fairways and greens meander through a valley punctuated by reeds, cattails, maples and pines, streams and wetlands. An astonishing number of flower gardens splash color on almost every hole. It's a fun course to play without the fuss except for a handful of holes.

Also in Williamstown, the semi-private Taconic Golf Club, owned by Williams College is characterized by rolling fairways, mature stands of trees, and roll-up greens. Taconic's tee times are for the most part, snapped up by its members but a few slots are open for non-members who shell out $95 to $145 in greens fees. Taconic dates back to 1896 with an expansion to 18 holes in 1927 by Wayne Stiles and John Van Kleek. In 1956 hole #14, a 173 yard par 3, was the site of a hole-in-one by Jack Nicklaus who, 16 years old at the time and practicing for the USGA Junior Amateur Championship.

Nearby in Lee, don't overlook Greenoch Country Club, an exceptional Donald Ross-designed golf course. Sure it's just nine holes, but it's such a beauty, you won't mind playing it twice. Right across the street is the charming Applegate B&B.

If you're looking to get out and enjoy your game without a whole lot of angst, Skyline Country Club just north of Pittsfield is a good bet. Fairways, though tight, are rolling and pretty straightforward. As the name implies, the views of mountains and Mount Greylock looming in the distance are worth the trip.

Farther south the Pontoosuc Lake Country Club has been owned by the Moxon family for three generations. It has a simple clubhouse, a tight somewhat hilly course with two tee boxes and a devoted group of locals who are quite happy with their course, thank you. The club has been going strong since the 1920s when it opened but there are not a whole lot of surprises here - few bunkers, few water hazards, and few carries. In 1936 A.W. Tillinghast recommended some changes while three years later Wayne Stiles renovated the layout. With green fees not much more than the cart rental, it's one of the best deals around.

The course at Egremont Country Club in Great Barrington in the southern Berkshires is not long but in dealing with small run-up greens, wetlands, tight fairways and a couple of funky elevations, it holds your interest. After golf stop at the Barrington Brewery & Restaurant for barn-brewed beer and food made from scratch. Sit in the Beer Garden and order something funky like Raspberry Ale or Black Bear Stout.

In Dalton east of Pittsfield Wahconah Country Club has some challenging elevation changes, four tee boxes, beautifully cut large bunkers and well-groomed fairways and greens. Weston Brook runs amok throughout the landscape, so expect possible mischief with water. A Stiles/Van Kleek/Armacost design Wahconah's strong pedigree shows in the details: the well-groomed fairways and greens, the spacious modern clubhouse and pro shop and the mint-condition golf carts.

Another class act, Cranwell Resort, Spa and Golf Club in Lenox is an elegant, refined bastion of the Gilded Age - a red brick mansion sitting on the crest of a hill overlooking a fine golf course designed in 1926 by Stiles and Van Kleek and renovated in 1993.


Where to Stay
The Berkshires has just about every kind of accommodation you could ask for from large hotels and chain motels to resort properties and small inns and B&Bs. And you don't have to go far to find something unique. In the far western corner of the state, your accommodations in the Porches in North Adams is housed in a group of former textile mill houses reborn with a retro look into a stylish boutique inn and tied together with porches. Very cool right down to the "paint-by-numbers" art work and slick red chairs.

Down the road, the Orchards Hotel in Williamstown has all the amenities of a large hotel, plus the intimacy of a smaller inn with a pool, garden courtyard, dining patio and pond. Guest rooms are furnished with a combination of antique English furniture and elegant fabrics along with pillow-top beds and some have fireplaces.

Cranwell Resort, Spa & Golf Club is a popular getaway destination with 114 rooms in the Elizabethan-style mansion, Beecher's Cottage and the Carriage House. One of the big perks here is the 35,000 sq. ft. spa where a variety of treatments and services are offered along with an indoor and outdoor pool. Just down the road is Tanglewood, summer home of the Boston Symphony Orchestra where people come to listen to fine music in the pavilion or on the lawns while the mountains stretch out all around. Since many of the concerts take place in the evening, golfers can play at a nearby course during the day then relax to the Symphony's fine music as the sun sets.

The red brick Tudor-style mansion in Lenox, Blantyre, could easily have been inspired by Scotland's Inverlochy Castle. Across the way from Cranwell's golf course, Blantyre's grand baronial Main Hall with its ornate woodwork and leaded stained glass windows celebrates all castle must-haves: turrets, carved friezes, and gargoyles. Outside is a pool, the Potting Shed Spa, a croquet court, and nonstop views of the Berkshires. This is the place to come if you want to impress your companion with a luxury experience - very romantic.

Applegate in Lee, a gracious country house on six acres of lawns and gardens, has enough room so you can spread out and enjoy your privacy. Special perks include pillow-top mattresses, private patios and balconies and mini-kitchens. All bedrooms have private baths, some have fireplaces, whirlpool tubs, patios and king canopy beds.

The Red Lion Inn in Stockbridge, once a stagecoach stop, evokes the late 1800s when the buxom, sharp-eyed Widow Bingham presided over the place as the first female innkeeper in the Berkshires. Long porches and rocking chairs, creaky floors and hallways lined by historic photos, and period furniture may be evidence of age, yet the Red Lion has modern amenities like Italian linens and fluffy robes along with an outdoor heated pool and hot tub. The prime rib served in the main dining room is out of this world while downstairs the Lion's Den Pub serves up great drinks and live entertainment.

Or check into The Inn at Stockbridge, an expansive B&B set on 12 acres of landscaped gardens. Rooms are located in the Georgian style mansion, the cottage house and the barn. There is a pool, fitness room, internet services, huge baths, balconies and fireplaces. And wait until you dig into the delicious home cooked breakfast, perhaps a Southwestern egg & cheese strata with fresh fruit.

Off-Course
With close to 40 concert halls and theatres, a dozen museums and several historic buildings and sites there is plenty to experience in the Berkshires including Mass MoCA the largest contemporary art museum in the country. Down the road is Stockbridge Mass, with the Norman Rockwell Museum and the Clark Institute in Williamstown. Special events include the Berkshire Theatre Festival, Shakespeare and Company, Barrington Stage, Jacob's Pillow dance company and Tanglewood.

And here's an idea. Combine your golf getaway with a stay at the Canyon Ranch Health Resort in Lenox. It's a full service destination spa with all the programs, treatments, exercises and facilities designed to put you on the road to better health and a slimmer body. The food is amazing, your guest room luxuriously comfortable.

And remember, in the Berkshires, just driving to the golf courses, winding through wooded hills and picture-perfect villages with tree-shaded sidewalks and passing cows grazing in sun-kissed meadows, getting to your tee time is part of the fun. All good.




Revised: 11/16/2012 - Article Viewed 34,134 Times
About: Katharine Dyson
---

Katharine Dyson is a freelance golf and travel writer, author, and columnist for several national & international publications and websites as well as guidebook author and blogger. Realizing that a golf and travel writer is the most underpaid, over privileged profession on the planet, she embraces the life style traveling all over the world to play golf and check out resorts. She is a member of the Golf Writers Association of American, Golf Travel Writers of America, the Society of American Travel Writers, and Metropolitan Golf Writers Association.
---
More Articles by Katharine Dyson